Have you heard of SIDS? Silent Infant Death Syndrome takes the lives of 290 babies every year and whilst it is most common in babies under twelve months, it can affect older children too. FSID's is the charity who support parents who have lost children to this tragic illness and fund research into further prevention. Their over-arching aim is to reduce the number of unexplained cot deaths to below 200 by 2015 and to halve it to 150 by 2020.
Today marks the next chapter in FSID's campaign - they have decided in order to encourage more families to seek the help they offer that they will now be known at
The Lullaby Trust
. They hope the new name will be a gentler name that will help families feel more able to access the information and services that they provide.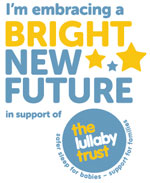 In honour of this event, several bloggers have written posts on the theme of lullabies (click the image above to view the other posts).
Twinkle, Twinkle is my favourite lullaby. I think the words resound so strongly about a beautiful star in the sky, watching over us all. I think it also has a lot of meaning for anyone who has lost someone.
It has been a firm favourite in our house ever since H was little. It was what I would sing to her before she went to sleep in her cot. It was also the first nursery rhyme she learnt to sing on her own. It is now one of several in our bedtime repertoire and my favourite part of the day is softly reciting it as she lays her head on her pillow.
So today we decided to recreate Twinkle Twinkle in our messy play. Inspired by Jennie at
Edspire
, I have bought a tuff spot and we set up our activity on there. I made glow in the dark water beads by emptying out a highlighter into some water
I had to break down the plastic pen of the highlighter as pull out the spongey part inside, and a poor pair of scissors paid the price!
I then left the beads in the water over night.
I also made some moon sand by mixing 4 cups of flour with 1 cup of baby oil, and added some glitter for a sparkly effect.
This is our first time using moon sand and I thought it was a great material - nice and soft and smelt lovely.
I set up a beach scenario on our new tuff spot, with the water beads as the sea and the moon sand as the beach, with shaving foam as a wave and some twinkly lights hidden underneath. I added some figures, a spade, cookie cutters and animals in the water and then to fill up some of the space (the tuff spot was a little larger than I anticipated!), I added some ball pool balls.
For a final effect I set up some fairy lights above the tuff spot, strung across our kitchen cupboards, then shut all the curtains. So here is our starry lullaby scene:
Please do support The Lullaby Trust by heading over to
their website
or by
tweeting them
. Any support of their new name is hugely appreciated #lullabytrust!
This post is written in memory of #MatildaMae, gone too soon.